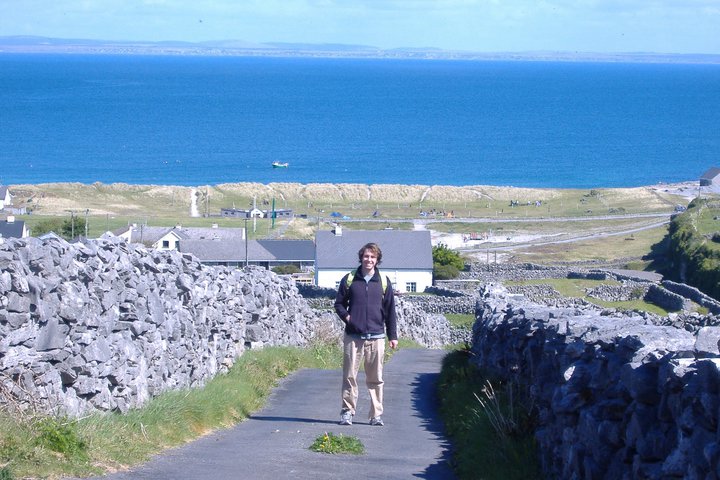 Chris grew up on Mount Desert Island, Maine, and has been playing music and creating art for as long as he can remember. He received his BA in Music and Visual Arts from Bowdoin College in 2010. He then went on to attain his Diploma in Irish Traditional Music and an MA in Ethnomusicology from University College Cork, in the south of Ireland, in 2011 and 2012.
Recently, Chris has immersed himself in the traditonal Acadian music of Maritime Canada. With the support of Chuck Donnelly and the Acadia Trad School, Chris formed the group Août Gris with fiddle phenom Gus La Casse. Chris and Gus performed at the Acadian World Congress in August, 2014.
Chris is both an artist and a musician/composer. As a multi-instrumentalist, he specializes in playing the Great Highland Bagpipes, the Uilleann pipes, and Irish whistles in addition to being an accomplished percussionist. He has recorded and produced three albums, Piob More (2010), Ceol As Corcaigh (2011), and Août Gris (2014).
Chris has performed for numerous events and venues in New England and Ireland, including the aforementioned Acadian World Congress (Congrès mondial acadien); the Maine Celtic Celebration; the Maine Saltwater Festival; the Saint Andrew's Society of Maine Burns Dinner; and the Highland Games in Maine, New Hampshire, and New Brunswick. In addition, he has annually been piping for the Blessing of the Fleet in Bass Harbor, Maine. During the summer, Chris can often be found playing pipes and whistles with Chuck Whitney at Leary's Landing in Bar Harbor, Maine, and he plays every Tuesday at Paddy Murphy's Pub in Bangor, Maine.