Prints
Artist-quality giclée prints on primed & stretched canvas are now available! With the look and feel of an original oil painting, these archival-quality prints offer an affordable way to purchase one of these breathtaking paintings of Acadia.
Order now and get free shipping for the Holidays!
Prints for Sale
Oil Paintings
Painted with great care and detail, these vibrant oil paintings are the perfect way to enjoy the beauty of Acadia National Park wherever you may be.
Oil Paintings for Sale
Music
If you enjoy Celtic music, the sounds of bagpipes, Irish whistles, and ancient melodies, then you will surely enjoy my latest album, "Fuist!" which is now available for download at CDBaby.com!
Listen & Download
esert Island Bodhráns
Father and son duo Jim and Chris Gray are proud to offer their new line of custom Bodhráns. We offer a range of finishes, sizes, tuning options, and stands.
Available Works
Contact Chris to order your painting today!
Order Painting
Music | Albums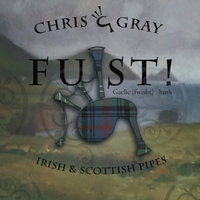 Fuist! (2017)
Traditional & New Music for the Irish & Scottish Pipes. Fuist [fwisht], means "hush" or "pipe down" in Irish & Scottish Gaelic, evoking poignant pipes and cheeky objections. This album features Irish slip jigs, Swedish waltzes, and sultry Scottish minuets, performed on the Uilleann Pipes, Scottish Smallpipes, and Irish Whistles.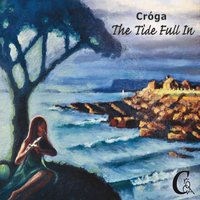 Cróga - The Tide Full In (2016)
Influenced by the Celtic, Oldtime, Cajun and Acadian traditions Cróga's debut album "The Tide Full In" brings an exciting blend of fast dance tunes, slow ballads and unique grooves you're sure to enjoy.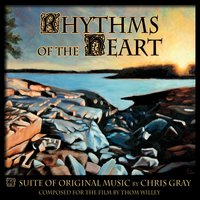 Rhythms of the Heart (2016)
This music was composed for Rhythms of the Heart, a film by Thom Willey, which documents a Passamaquoddy craftsman's journey to preserve family, life, and tradition while facing a life-threatening illness.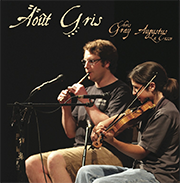 Août Gris: Acadian & Celtic Music (2014)
Brilliant fiddle and tin whistle music from Acadian PEI, Cape Breton, Maine and Ireland. Featuring fiddle phenom Gus La Casse and multi-instrumentalist & composer Chris Gray.
Piob More (2010)
Traditional tunes, contemporary compositions, and world percussion are tastefully combined in this exploration of Celtic music and Bagpiping traditions from Ireland to Estonia.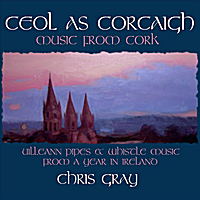 Ceol As Corcaigh (2011)
Original music inspired by a year in Ireland, combining elegant, uplifting melodies on the Uilleann Pipes and Irish Whistles with intricate Irish and Middle Eastern rhythms on the Bodhrán and Riqq.
Coming Soon: A collection of Chris' original compositions and settings of traditional Celtic tunes, with chords for guitar accompaniment.